5 Worst Prisons In London City, UK
Five Worst Prisons In London, UK. In this article, we have listed the Five Worst Prisons found In London, which had been the center of crime in the UK for decades.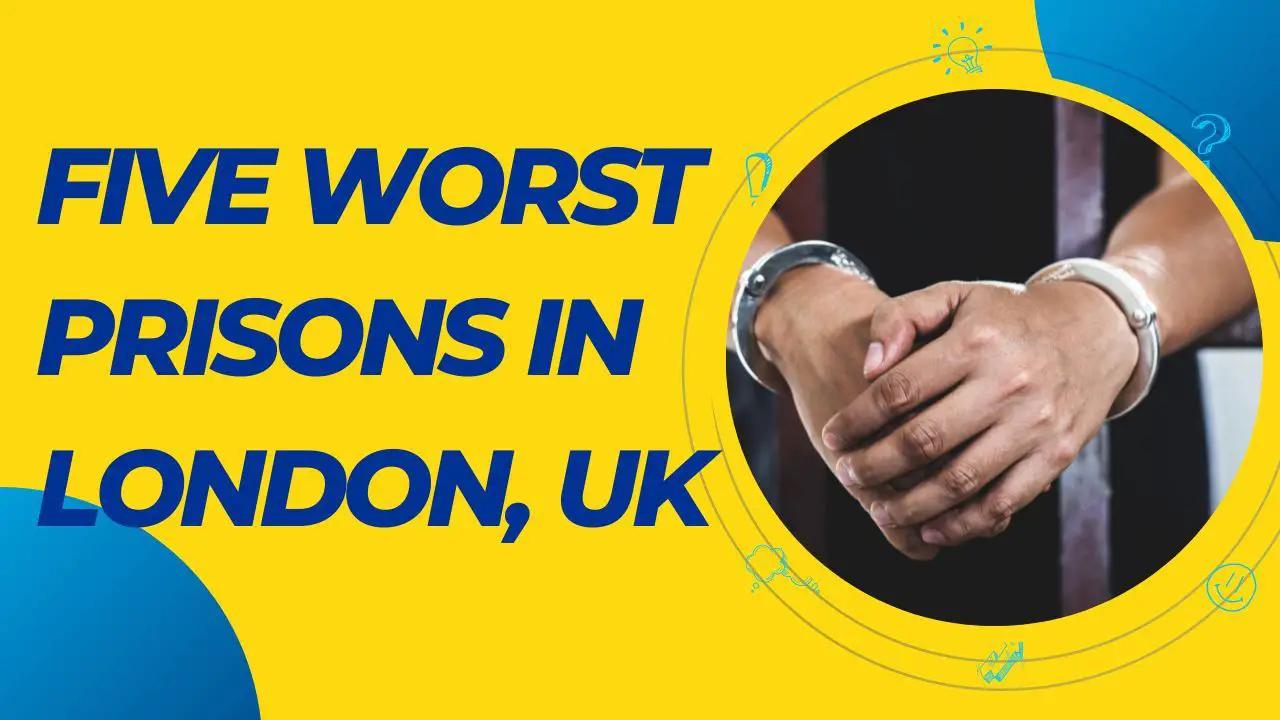 With its long history, London has been the center of crime in the UK for decades. Back in the days of Jack the Ripper, London was the hot seat for all sorts of thugs and gangsters seeking to make it big in a big city. For some, it worked, the others shoveled coal.
Among the most popular prisons in London, Newgate Prison is perhaps one that housed criminals of all manners, from petty thieves to murderers and gangsters.
Prisons have evolved largely in London now. His Majesty's Prison Service (or Her Majesty's Prison Service in case of a female monarch, abbreviated as HMPS) is a part of HM Prison and Probation Service, formerly called the National Offender Management Service. It is a part of His Majesty's Government responsible for managing most of the prisons within England and Wales (UK). The title is used up in the names of individual prisons and is usually abbreviated as HM Prison or HMP.
Below is a list of the five worst prisons in London, UK
#5 HMP Belmarsh
HMP Belmarsh is a Category-A men's prison in Thamesmead, southeast London, England. The prison is used to house high-profile criminals, particularly those who directly threaten national security. Within the prison, grounds is a unique unit referred to as the High-Security Unit (HSU). It is a 48 single-cell unit and is regarded as the most secure prison unit in the United Kingdom. Belmarsh Prison became operational on April 2, 1991.
Few prisons in England have a notorious reputation as HMP Belmarsh, where criminals convicted at the Old Bailey (Central Criminal Court) are often sent. The prison is one of England and Wales's only three high-security jails.
Despite this, around a third of its inmates stated that they felt unsafe, with levels of violence had escalated since an inspection in 2015. According to the HM Chief Inspector of Prisons Peter Clarke's report in 2018, the prison had a small number of prisoners who required "specific management" to their high-profile status with the public and general media. Some big names imprisoned at Belmarsh include Levi Bellfield, Julian Assange, David Copeland, Wayne Couzens, and Danyal Hussein.
#4 HMP Wormwood Scrubs
HM Prison Wormwood Scrubs (colloquially known as "The Scrubs") is a Category B men's local prison opposite the Hammersmith Hospital and W12 Conferences on Du Cane Road in the White City in West London, England.
The prison grounds are laid out at the southern end of the ancient park of the same name. The name "Scrubs" refers to scrubland. At the same time, Wormwood, Artemisia absinthium, a species of Artemisia, is a gray-foliaged sub-shrub, common on badland, which was traditionally used as a herb to craft medicine for the treatment of parasitic worms. The designer of the prison was Sir Edmund Frederick Du Cane, an English major-general of the Royal Engineers and prison administrator, who gave his name to the prison's road.
The prison housed several conscientious objectors in World War I, one of whom, the Quaker journalist Hubert William Peet, wrote about the conditions there in his 112 Days' Hard Labor book.
In 1979, IRA (Irish Republican Army) prisoners staged a rooftop protest over visiting rights. Around 60 inmates and several prison guards and officers were injured. In 1982, an inquiry blamed much of the difficulties related to the riot's causes on failings in prison management. The Governor, John McCarthy, had already quit before the rioting. In a letter to a British daily, The Times, he had described Wormwood Scrubs as a "penal dustbin".
The prison today contains separate wings for high-risk prisoners and those requiring intensive drug treatment. It has been reported that illicit drug activity was constantly occurring within the prison, and gangland activity was an ongoing threat to prisoners. The prison recently made headlines after a refugee was found dead in his cell. He had committed suicide after refusing food and talking about killing himself.
#3 HMP Pentonville
HM Prison Pentonville (also known informally as "The Ville") is an English Category B men's prison under the operation of His Majesty's Prison Service. Pentonville Prison is not situated in Pentonville but is located further north, on the Caledonian Road in the Barnsbury area of the London Borough of Islington, north London. In 2015 the justice secretary and a British MP, Michael Gove, described Pentonville Prison as "the most dramatic example of failure" within the prison's estate.
In 2017, it was reported that the IMB (Independent Monitoring Board) described Pentonville as utterly squalid and inhumane. Blocked toilets and leaking sewage were discovered, and broken facilities meant inmates went without clean clothes, showers, and hot food. Prisoners were regularly confined to a cell 12 feet by 8 feet with another inmate as a cellmate.
In recent years, the facility has garnered media attention after several high-profile convicts were able to escape. In 2006, a convicted arsonist escaped Pentonville by clinging on to the underside of the prison van, while in 2012 a convicted murderer made his getaway from within the confines of the facility.
A concern was raised about the frequency of assaults on staff, which averaged about 10 per month. The facility has remained largely unchanged in the 180 years it has been operational.
#2 HMP Wandsworth
HM Prison Wandsworth is a Category B men's prison located at Wandsworth in the London Borough of Wandsworth, South West London, England. It is one of the largest prisons in the UK.
The prison was established in 1851 and was named Surrey House of Correction. Its design was based on the humane separate system principle: several corridors radiate from a central control point, with each prisoner having toilet facilities. The toilets were subsequently removed to increase prison capacity, and the prisoners were left with no choice but to engage in the humiliating process of "slopping out" until 1996.
The facility is spread across eight wings, and there are over 1,428 men in the prison. A BBC investigation found that cannabis was openly smoked inside Wandsworth and a large-scale drug abuse problem in the facility. It was also revealed that despite six reported suicides since 2015, not all staff carried anti-ligature knives.
#1 HMP Feltham
Feltham Young Offenders Institution (more commonly called HM Prison Feltham) is a prison for male juveniles. It is a Young Offenders Institution, occupying 0.184 square kilometers (45 acres/ 0.114 miles), located south-west of Feltham in the London Borough of Hounslow, in west London, England.
The original Feltham institution was established after 1857 and opened on January 1, 1859, as an Industrial School but was taken over in 1910 by the Prison Commissioners as their second Borstal institution. The existing building opened as a Remand Center in March 1988.
An unannounced inspection in 2017 found that the juvenile units, taken together, were unsafe for the staff and the boys and that violence had increased in the section for older young men, prompting a Commons debate. A serious assault on a staff member occurred while the inspection was underway. The prison was criticized heavily for the 23-hour detention, in that although the exercise was possible, showers were not allowed on those days.
Various reports have stated that Feltham endures "enormous problems" with gang rivalries among the inmates and postcode-related violence that has continued from the outside.
In 2019, 20 prison officers were injured after a weekend of violence in prison, 13 of which had to get hospital treatment.
Read more related articles: