Why Did Mark Wahlberg Go to Prison?
Why Did Mark Wahlberg Go to Prison? In this article, we have discussed everything you need to know about Mark Wahlberg.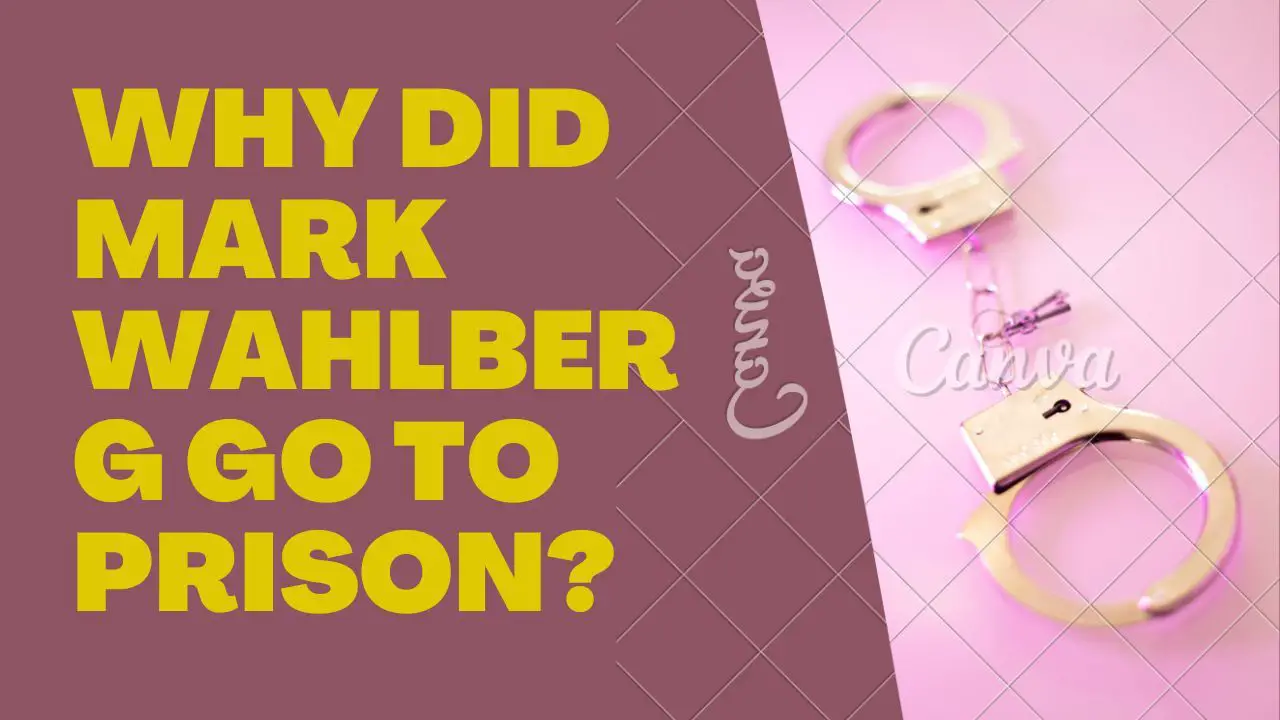 Mark Wahlberg is a well-known celebrity in the entertainment industry, with a career that spans decades and includes multiple award-winning performances. His on-screen charisma and natural talent have earned him a place in the pantheon of Hollywood stars.
However, beyond the glitter and glamour of his professional success, lies a dark and troubled past that has been the subject of intense backfire.
As we explore the complexities of Mark's past and present, we delve into the multiple facets of his life and career, asking whether it is possible to truly move beyond one's past and achieve lasting redemption.
Mark Wahlberg's Early Life
Mark Wahlberg's troubled past and criminal record can be traced back to his early life growing up in the streets of Boston. Born in 1971, he was the youngest of nine children and grew up in a working-class family. Despite his parents' efforts to provide for their children, life was tough in the tight-knit neighborhood of Dorchester, where poverty and violence were commonplace.
As a young boy, Mark got involved in gang activity and started hanging out with older kids who were already a part of the criminal world. By the age of 13, he was addicted to cocaine and other drugs, and his life was spiraling out of control. He dropped out of school and began committing petty crimes like stealing and vandalism.
Things took a turn for the worse when Wahlberg was 16 years old and was arrested for assaulting a Vietnamese man in what was described as a racially motivated attack. This incident marked the beginning of a long string of violent crimes that would ultimately land him in prison.
Mark Wahlberg's Crimes
Mark Wahlberg's early life was marked by his involvement in gang activity and drug use, which eventually led him down a path of criminal behavior. This section will delve deeper into the incidents that led to his arrest and imprisonment.
The Attack on Two Vietnamese Men
One of the most notorious incidents involving Wahlberg's criminal past was the attack on two Vietnamese men on April 8, 1988, which left one of the men, Hoa Trinh, blinded in one eye. Mark, who was 16 years old at the time, was with two friends when they spotted a group of Vietnamese men.
In an unprovoked attack, he and his friends chased the men down and attacked them with wooden sticks and a metal hook. During the attack, Mark called the men "Vietnam ******* shit" and "slant-eyed gooks."
Assault on a Middle-Aged Man
Wahlberg's second incident involved the assault of a middle-aged man in the Dorchester neighborhood of Boston on June 15, 1988. The man, named Johnny Trinh, was also of Vietnamese descent.
Along with his friends, Mark approached Trinh and hurled racist slurs at him before punching him in the face. Trinh was knocked to the ground and kicked repeatedly, causing him to lose consciousness.
The Aftermath of the Crimes
Following the attacks, the group of friends was apprehended by the police. Mark was charged with attempted murder, but the charge was later reduced to criminal contempt. He was sentenced to two years in prison but only served 45 days before being released on parole. His two friends received lesser sentences.
The attacks on the Vietnamese men left a lasting impact on the victims and their families, as well as the Asian-American community at large. Wahlberg's actions were widely condemned, and many called for him to face harsher punishment.
The Trial and Sentencing
Arrest and Legal Proceedings
In 1988, Mark Wahlberg was arrested and charged with attempted murder, assault, and battery for his involvement in attacking two Vietnamese men. The incident took place in Boston, where Wahlberg and his friends chased after the men and proceeded to beat them with wooden sticks and metal rods. One of the victims was left blinded in one eye.
During the trial, Wahlberg maintained that he was not motivated by racial hatred, even though he and his friends had shouted racial slurs during the attack. However, the prosecution argued that the attack was racially motivated, citing a history of similar attacks in the area.
Charges and Evidence Presented
Wahlberg was ultimately charged with two counts of assault and battery, as well as one count of attempted murder. During the trial, the prosecution presented several pieces of evidence, including witness testimonies, medical reports of the victim's injuries, and Wahlberg's prior criminal record.
Sentencing and Time Spent in Prison
After a lengthy trial, he was convicted of assault and battery, and sentenced to two years in prison. However, he only served 45 days of his sentence before being released on parole.
Read Why are The Chrisleys Going to Prison?
During his time in prison, Wahlberg reflected on his past behavior and began to turn his life around. He credits his time in prison with helping him to see the error of his ways and motivating him to make positive changes in his life.
Continued Legal Issues
Despite his efforts to turn his life around, he continued to face legal issues in the years following his release from prison. In 1992, he was charged with assault and battery for attacking a man in a bar, and in 1993, he faced charges of violating his parole.
The Aftermath and Redemption
Wahlberg's time in prison marked a turning point in his life. He had to confront his past actions and come to terms with the consequences of his violent behavior. After serving his sentence, he was determined to make a positive change in his life.
Impact of Prison Time
Wahlberg's time in prison was a humbling experience. He was forced to confront his past mistakes and take responsibility for his actions. It was a stark contrast to the glamorous lifestyle he had become accustomed to as a celebrity.
During his time in prison, Mark dedicated himself to self-improvement. He participated in educational programs and took courses on topics such as entrepreneurship and public speaking. He also spent time reflecting on his past and the harm he had caused.
Turning His Life Around
After his release from prison, Wahlberg was determined to turn his life around. He began by distancing himself from his old lifestyle and the people who had enabled his past behavior. He also became more involved in his faith and began attending church regularly.
His commitment to self-improvement extended beyond his personal life. He became involved in various charity organizations, including the Boys and Girls Clubs of America and the Mark Wahlberg Youth Foundation. These organizations provide support and opportunities for young people from disadvantaged backgrounds.
Promoting Social Justice
In addition to his charitable work, Wahlberg has also become an advocate for social justice. He has spoken out about issues such as police brutality and racial inequality. He has used his platform to promote awareness and encourage others to take action.
Wahlberg's commitment to social justice extends beyond his public statements. He has also used his production company, Unrealistic Ideas, to create content that addresses important social issues. For example, the company produced the docuseries "Wahl Street," which explores entrepreneurship and the American dream.
Read Why Did Robert Downey Jr. Go to Prison?
Overall, Wahlberg's post-prison life has been characterized by a commitment to self-improvement and social justice. He has used his platform and resources to make a positive impact on the world and to address the harm he caused in his past.
Public Perception and Criticisms
Mark's criminal record and past actions have been the subject of much public scrutiny and criticism. Some people view his success as a Hollywood actor as undeserved given his violent past, while others believe that he has paid his debt to society and should be judged solely on his current behavior.
One area of criticism centers around the racial component of Wahlberg's first crime. Many have accused him of perpetuating anti-Asian sentiment with his attack on two Vietnamese men. While Wahlberg has expressed remorse for his actions and has sought to make amends, some still view his past behavior as evidence of deeply ingrained prejudice.
Others criticize Wahlberg for not doing enough to make up for his crimes. Despite his charitable work and advocacy for social justice causes, some argue that he should be doing more to directly atone for his actions, such as publicly apologizing to his victims or making financial reparations.
Additionally, some have questioned the sincerity of his redemption and whether it is merely a PR move to improve his public image. While Mark has spoken openly about his past and the impact it has had on his life, some remain skeptical of his motives.
PS: Why does Mark Wahlberg go to prison?
Mark Wahlberg's journey from a troubled youth involved in criminal activities to a successful actor and producer has been marred by his violent past. Although his crimes are indefensible, Mark has taken steps to turn his life around and has been involved in charity work and efforts to promote social justice.
While opinions on his past actions vary, it is clear that Wahlberg's controversial history has had an impact on his public image and career. His story serves as a reminder of the consequences of violent behavior and the possibility of redemption and second chances.