Segovia Unit: Brief Overview Visiting Hours, Inmate Phones, And Location
Segovia Unit is a Minium security prison in the State of Texas. Learn everything about Segovia Unit including visiting hours, education programs, and what time to visit?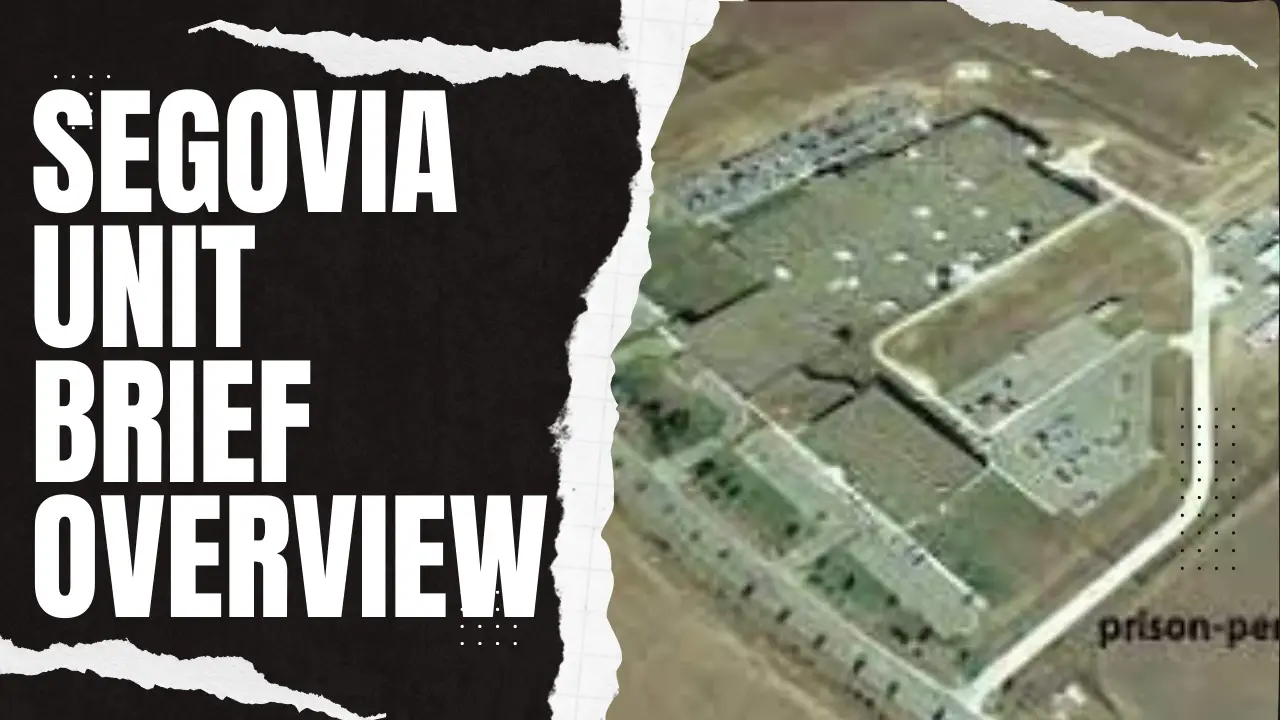 Segovia Unit, also known as Manuel A. Segovia Unit, is one of the minimum security prisons in the State of Texas. Located in Edinburg, Texas, and serving Hidalgo county, the unit has a maximum capacity of over 1,224 male offenders and has a total area of over 300 acres.
The Segovia Unit also shares its facility with Lopez Unit, which is often referred to as Lopez/Segovia complex. The Lopez/Segovia complex comprises over an additional twenty acres worth of perimeter protected with all sorts of razor-wire fences and electronic detection systems.
This article will talk about what Segovia Unit is, what kind of educational programs there are within the facility, how to approach inmates, and other useful details about the prison.
What purposes does the Segovia Unit serve and its accommodation size?
The Segovia Unit is used for pre-release facilities; therefore, it serves to help the transition of inmates, helping them meet parole requirements and preparing them for their upcoming release. The majority of the prisoners serve two years of their sentence in the Segovia Unit.
The housing unit comprises two housing structures with over 204 beds in each, which is further divided into 68-bed sections with 24/hours roving officers with fixed booths to continually monitor the inmates.
Education and rehabilitation services in Segovia Unit?
The purpose of the Segovia Unit is not to hold prisoners for a longer duration and to house those that do not have a maximum sentence on their name; also to support those to get back to their life once they have served their sentence.
1. Adult Basic Education:
The educational opportunities provided at Segovia Unit are various. Some of them include literacy courses, some basic adult education classes, and some allowing the inmates to earn their GED during their incarceration.
Additional courses are also provided that include different kinds of courses helping the inmates with substance control, giving various support groups, different life skills, and cognitive intervention.
2. Community Work Projects:
A selected number of inmates also get to do volunteer service that helps them to earn positive points. These volunteer services include working in the laundry department, working at the facility maintenance, and providing services to the Texas Department of Transportation, the Texas Department of Parks and Wildlife, along with other kinds of volunteer work that support the public and community for a larger good.
3. English as Second Language Program (ESL):
This is generally for the inmates who are from abroad and were caught in the US committing crimes.
This program helps them to improve their English language both written and verbal.
4. Career and Technical Education (CTE):
This is a basic level program aimed at providing the inmates with basic information about the job opportunities there are within the prison industry. Counselors are also there to provide career guidance aimed at helping the offenders prepare for jobs and careers after they are released.
How to send money to an inmate in Segovia Unit?
As a friend or a family, you can send money that an inmate uses to purchase necessities, including hygiene care products, books and magazines, and some basic kinds of foodstuff. Sending money to the Segovia unit will let the inmate know that people outside care for them, and it will make it better to serve their sentence.
Please note that apart from October to December holidays, you can only send $60 per month. It may vary from prisoner to prisoner depending upon the kind of sentence they are serving. From October to December, the limit is $85 to $100.
There are two ways through which you can send money to an inmate, which include:
1. Sending Money to inmates Online:
This is the best and the easiest way to send money to the prisoner. Two most commonly used platforms are eCommDirect and JPay.
You can easily make an account on these two platforms and connect your Paypal and Bank accounts. The money sent will be given from the warden to the inmate.
2. Mail: money orders or cashiers check
The other method is a bit old school. However, if you like this way, sure. You can send cash to your inmate at Segovia Unit.
You will have to make a payable "Inmate Trust Fund for the offender *name* and *number*"
Deposit a slip with your address, in a bank stamped envelope to the Inmate trust fund, PO Box 60, Huntsville, TX 77342-0060
Visiting hours and rules at Segovia Unit:
The visitors going to Segovia Unit can visit on Saturdays and Sundays from the time 8:00 am to 5:00 pm. The visiting periods are only allowed for two hours and thus each inmate is allowed one visit within a weekend with two adults.
No minor is allowed to enter the Segovia Unit, and you will need to prove that you are 18+.
In order to visit someone within Segovia Unit, you will have to fill out a visiting form:
The form is available online and needs the Texas Department of Criminal Justice approval. The following forms can be accessed by clicking on the link:
However, it is recommended to read the guideline, helping you with how you can submit the form.
Things to make sure of before visiting the Segovia Unit:
These are the following things you will have to take care of when you are visiting someone within the Segovia Unit. These include:
Ensure that the inmate you are going to visit has the privileges of taking visits. You can either call the warden and ask for the specific inmate or search on this website.
Before leaving the Segovia Unit after completing the visiting form, the best practice is to verify that the visit has not been canceled. There can be several reasons why a visit can be canceled, so the best practice is to check before leaving. Usually, it is a go from their end, but making a simple phone call will not hurt you.
You must bring government-issued photo identification (ID).
You are not allowed to bring cash for more than $25.
Make sure to not bring a cell phone within the jail perimeter.
Visiting dress code Segovia Unit
Segovia Unit has a visitor's dress code. Most of the prisons do, and so does the Segovia Unit. The dress code includes the following:
Sandals, flip-flops, or any form of open-toe shoes are allowed.
Tight-fitting clothing or having see-through fabrics is not allowed.
Sleeveless shirts along with sleeveless dresses are allowed.
Short skirts, not shorter than three inches about the middle of the knee, are allowed. Anything shorter than this is not allowed.
Clothing worn needs to be clean; it cannot contain any picture or language. As that is considered offensive.
It is recommended to wear a normal dress, nothing fancy. Simple colors with simple markings on them. Formal and Casual wear is the best way to go about it.
What is the Physical Address of the Segovia Unit:
The following is the physical address of the Segovia Unit:
Segovia Unit
1201 E. El Cibolo Road
Edinburg, TX 78542
Phone number of the Segovia Unit:
(956) 316-2400 (**078)
Read more of our Prisons related articles: