Why Is Nikita Dragun In Prison?
Why Is Nikita Dragun In Prison? This article discussed Nikia Dragun a social media celebrity who gained a lot of momentum for her influential presence as well as her YouTube channel.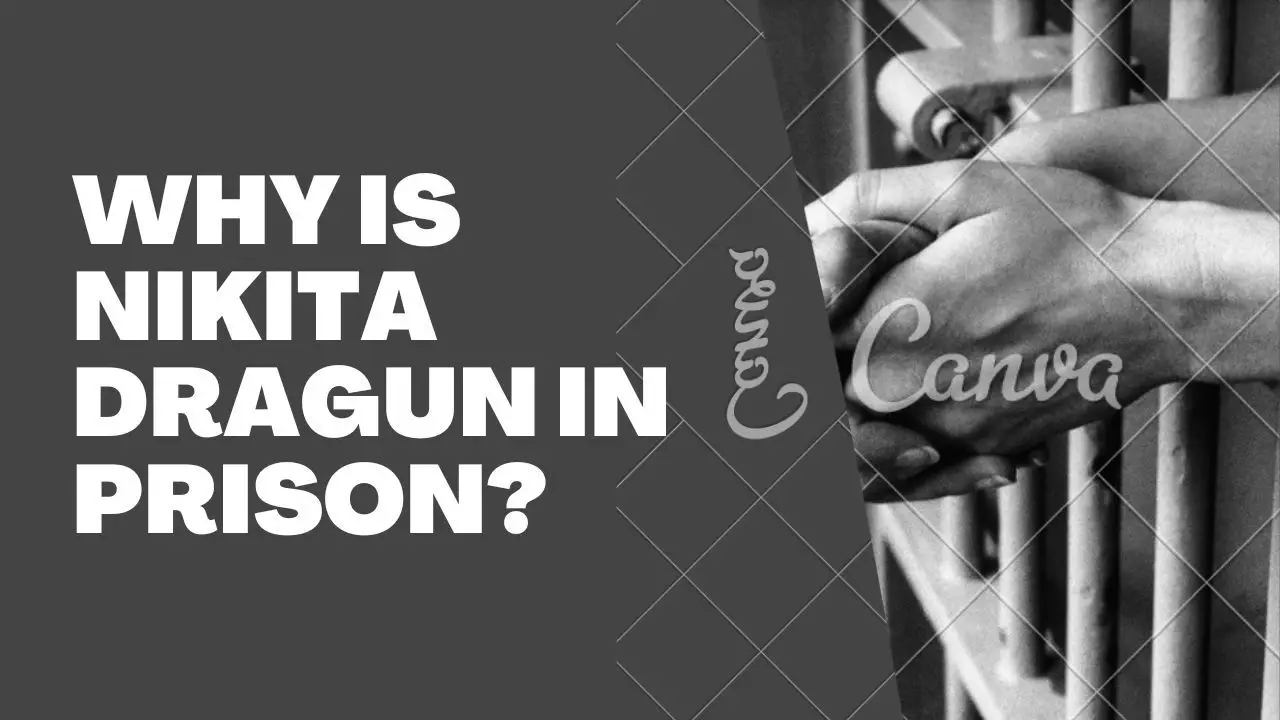 Recently the internet has given rise to a lot of new influencers and social media personalities, one of them being Nikita Dragun. This social media celebrity gained a lot of momentum for her influential presence as well as her YouTube channel. Safe to say, her life was nothing less than glamor and success all around.
However, the dazzling facade began to crumble when her name started popping up in newspapers, not because of a new life event but when she found herself in a legal storm. With that, many people started wondering, "Why is Nikita Dragun going to prison."
If you're one to unravel the truth behind these events, you've landed in the right place. Let's get down to the reasons and Nikita's journey from glamor to a potentially grim fate.
Nikita Dragun's Personal Life
Most of you already know her. For the new-to-the-scene people,  Nikita Dragun has been an internet sensation since 2014. She's a transgender woman of half-Vietnamese and half-Mexican descent, known for her fashion and beauty YouTube channel, where she also talks about her gender transition.
She opened herself in front of her viewers, and that, in turn, brought more viewers and people with gender dysphoria who now look up to her.
Besides that, Nikita Dragun has also been busy digging her hands into everything she possibly can. Nikita has made a name for herself in the buzz world industry for her looks and personality. Although, the star didn't lag behind the business niche either. She now has her makeup line and has starred in several music videos.
Moreover, she appeared in an episode of "The Real Housewives Of Beverly Hills" and has starred in a web series named "Nikita Unfiltered." She is also a successful entrepreneur and a brand ambassador for the LGBTQ Community. There is nothing she doesn't want to do and gets all the praise from her fans for it.
Now that we know who Nikita Dragun is. The real question that comes to your mind is, "Why is Nikita Dragun in Prison?" Let's spill the tea.
Read How Many Prisoners Are In Georgia? Prisoners Population in Georgia
Nikita Dragun's Charges
Nikita Dragun was arrested in November 2022 at the Goodtime Hotel In Miami on charges of felony assault, misdemeanor battery, and misdemeanor disorderly conduct.
The hotel security told the police that Nikita Dragun had been walking around the pool area with no clothes. When confronted, she threw water on the hotel staffer. The police made their way to her room, where she had loud music on. The hotel security, along with the police, told her that she might have to leave the hotel premises.
On hearing this, Nikita Dragun closed the door in their faces only to open it a while later and ask, "Do you want more?" According to the affidavit, the YouTuber then threw an open water bottle at them, "causing the water bottle to hit and spill" on the security guard and one of the officers.
Well, everything has consequences. Nikita Dragun was immediately arrested on multiple charges and taken to the Turner Guilford Knight Correctional Unit.
The Real Issue
You're probably wondering whether the answer to your question, "Why is Nikita Dragun in Prison?" has been answered. Multiple misconducts are, after all, a heavy charge, and that should be where the story ends.  She had a raging moment, and she got arrested for it; that's it. Well, you might be wrong. There is more to the incident.
The influencer, who has tens of millions of die-hard followers across her social media accounts, was kept in a men's unit despite being transgender. On appearing in front of the judge, Nikita Dragun asked the judge if she still had to stay in the men's unit, to which the judge pretty much said yes. "I don't make the rules up there," was the judge's response.
However, the judge sympathized with Dragun and promised to find her a better prison center for transgenders.
Read The Prison Population in Ohio? How Many Prisoners Are in Ohio?
Nikita And Her Representatives' Stance
In an interview, Dragun's representative, Jack Ketsoyan, said that their defendant was legally a female and placing her in a men's unit was extremely disturbing and dangerous.
Dragun's representative also blamed the Miami-Dade County Corrections Department for violating their protocols. "The transgender inmates are classified and housed based on safety needs and gender identity," Ketsoyan added and confirmed that Nikita Dragun has been released.
The Misgendering Case
According to a screenshot of the affidavit that has been circulating, Nikita Dragun's gender was also misidentified. Rather than identifying her as a woman, she was identified as a man, which has stirred up her fans and the LGBTQ community.
According to the affidavit, the department said that Dragun appears as a female but would like to be recognized as a man. The affidavit identifies her as a man and also uses the pronouns he/him instead of she/her. While referring to herself online, she has always used the pronouns she/her ever since her transition.
Of course, the internet is a free place where people don't hold back on their comments. Once this scenario came to the public, Dragun's fans, especially the LGBTQ community, were on a virtual protest against the law enforcement institutions.
A lot of people came out on Twitter and other platforms in favor of Nikita Dragun and the violation of her rights. According to them, the wrong gender identification and putting her in a men's cell is absurd and disturbing.
Many fans, and even some famous personalities, came out for Nikita Dragun, claiming that she does not deserve this and there should be strict implementation of human rights for transgenders in legal scenarios.  The public verdict became: whether or not you are a fan of her, you need to come out for Nikita Dragun.
According to an NBC News Investigation, most transgender inmates are housed according to the gender they were assigned at birth and not by the one they identify with.
Recently, transgender inmates have started suing prisons to get gender-based housing and gender-affirming care, being a medical requirement. Moreover, transgenders are more likely to face sexual assault, violence, and gender discrimination in prisons, so it is only fair to find them better accommodation.
Miami-Dade Corrections' Response
After all this fuss, wouldn't you expect an answer from the authorities? Well, the authorities did answer, and a very unexpected one. In an interview with TMZ, Miami-Dade Corrections denied all these allegations.
According to them, Nikita Dragun was never held in the men's unit. They said that the Miami-Dade Corrections and Rehabilitation Department respects the transgender community and protects their rights. Not only the transgender community but the entire LGBTQ community is respected by the department. According to them, Nikita Dragun did not even make it past the booking process and was never placed in the men's unit.
The department added that all the inmates are placed in an open seating area during intake. They claimed that Nikita Dragun was housed in a holding cell all alone due to her high-profile status. Moreover, she was escorted by an LGBTQ officer during her entire time in the facility before being released.
If you are still wondering, "Is Nikita Dragun in prison?" the Miami Dade Corrections also confirmed that Nikita Dragun had been released from jail on recognizance, meaning she did not have to post bail. Her bond was set at two thousand dollars.
Nikita's Life After The Incident
Now that we have answered the question "Why is Nikita Dragun in prison?", the next question should be "Where is Nikita Dragun after being in prison?" Let us get into it.
After the incident, Nikita Dragun seems overwhelmed by the situation, and her representatives have said she is now on a small hiatus. As per the news, she was picked up by the police forcefully on Thanksgiving and was detained in a psychiatric unit.
Dragun states that she was diagnosed with bipolar disorder and needed time to reflect on her well-being. Furthermore, she also added that those struggling with mental health should have no shame in seeking help.
While Nikita Dragun took a break, her businesses came crashing down with her. Unfortunately, her businesses haven't picked up since her prison incident either; quite the contrary. You've probably heard about many beauty guru brands being shut down in the past years, including Tati Beauty and Makeup Geek.
Well, add one more to the list. The YouTube influencer's beauty brand "Dragun Beauty" is discontinued and, most likely, will shut down unless someone buys it. Nikita Dragun has ended the partnership with Slash Management due to "mismanagement."
If you think this was a mutual consensus, the contract breakup was anything but that. The parties took separate ways with bad blood between them. Jake Webb, the former partner of Dragun Beauty, has also stated that new investors should take caution while investing in talent-driven brands, such as Nikita Dragun, early in their careers without viewing a consistency in their behavior, goals, and mentality.
"This should be a cautionary tale about investing in talent-driven brands too early," stated Jake Webb.
Rumors of Nikita Dragun debuting on OnlyFans following her break are also being heard.
Conclusion
It's not uncommon for a celebrity to find themselves in prison at some point; at least, many do. However, some of the 'prison stories' make it big because of the mixed controversies around it, and Nikita Dragun lands on that list.
After gaining much media attention, many people have asked, "Why is Nikita Dragun in Prison?" The incident, which led to Nikita Dragun's imprisonment and housing in a men's cell for throwing water at the police officer, has become a controversial topic.
Read more related articles